1000 Series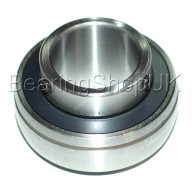 A Bearing is a machine element which prevents friction between two moving objects or mechanisms. It is commonly applied mechanically and mostly on constructions. Bearings can be categorised into many types, such as Bearing Inserts which are widely available here at Bearing Shop UK.

Bearing Inserts are used within a housing and locked to the shaft with a Set Screw or a Shaft Collar. Providing better shaft support, a Bearing Inserts don't rely on shoulders, Lock Nuts or Bearing Adapter Sleeves to be attached to the shafts. In addition, they can be easily fitted to shafts with the use of special installation tools.

Masters of the trade, Bearing Shop UK provide mechanical equipment such as the V Pulleys, V Belts, Bearings, and many more to the highest standards. In the business for 20 years, Bearing Shop UK is proud to provide quality products.

Can't find what you're looking for? – Contact us.